Stanislava Postnova, who graduates from the Bolshoi Ballet Academy in Moscow next summer, told Zefir Ballet about how artists stand out from the crowd through the way they wear clothes, how to survive a rehearsal at 11 PM and why empty mind when dancing is the key to success.
S.P.:
Fashion, Style and Ballet
Fashion plays an important role in my life. My mom always cares about the way she looks and also what I wear. So I grew up with a sense of style cultivated by my parents.
The esthetics of ballet clothes undoubtedly influences what you wear. If you are an artist, a ballerina — you definitely stand out from the crowd. Ballerinas sometimes borrow looks and details from the stage, for example bright colors or a lot of accessories. Personally, I find inspiration in art, fashion magazines and paintings. When it comes to Zefir Ballet clothes, which I often wear to my ballet class, I love Flower collection with its solid colour leotards and brightly coloured flower-patterned skirts.
My everyday style is elegant and practical. By 'practical' I mean that I can wear a garment the whole day long – from the morning at the academy to the evening at a restaurant or theater. I don't really like wearing sneakers except when I spend weekends at the gym or when my legs and feet hurt a lot after rehearsals. My favorite clothes for rehearsing is pink or violet sauna-shorts and leg warmers. I like when my muscles are warmed up — they get warm and then cold again in a very short time. Students are allowed to wear it all outside the rehearsal room, in the corridor, where we warm up before rehearsal. Actually we do not have strict uniform at school — the teacher at class lets us wear colourful leotards with different skirts. My teacher has nothing against bright colors but sometimes she asks to wear only black for at least one week. Young teachers who work at theaters are used to that diversity.
I love wearing colorful leggings. Artists in the theater are quite independent comparing to students and no one can make them wear a uniform, though I think sometimes it is necessary. Neutral rehearsal clothes show your self-discipline.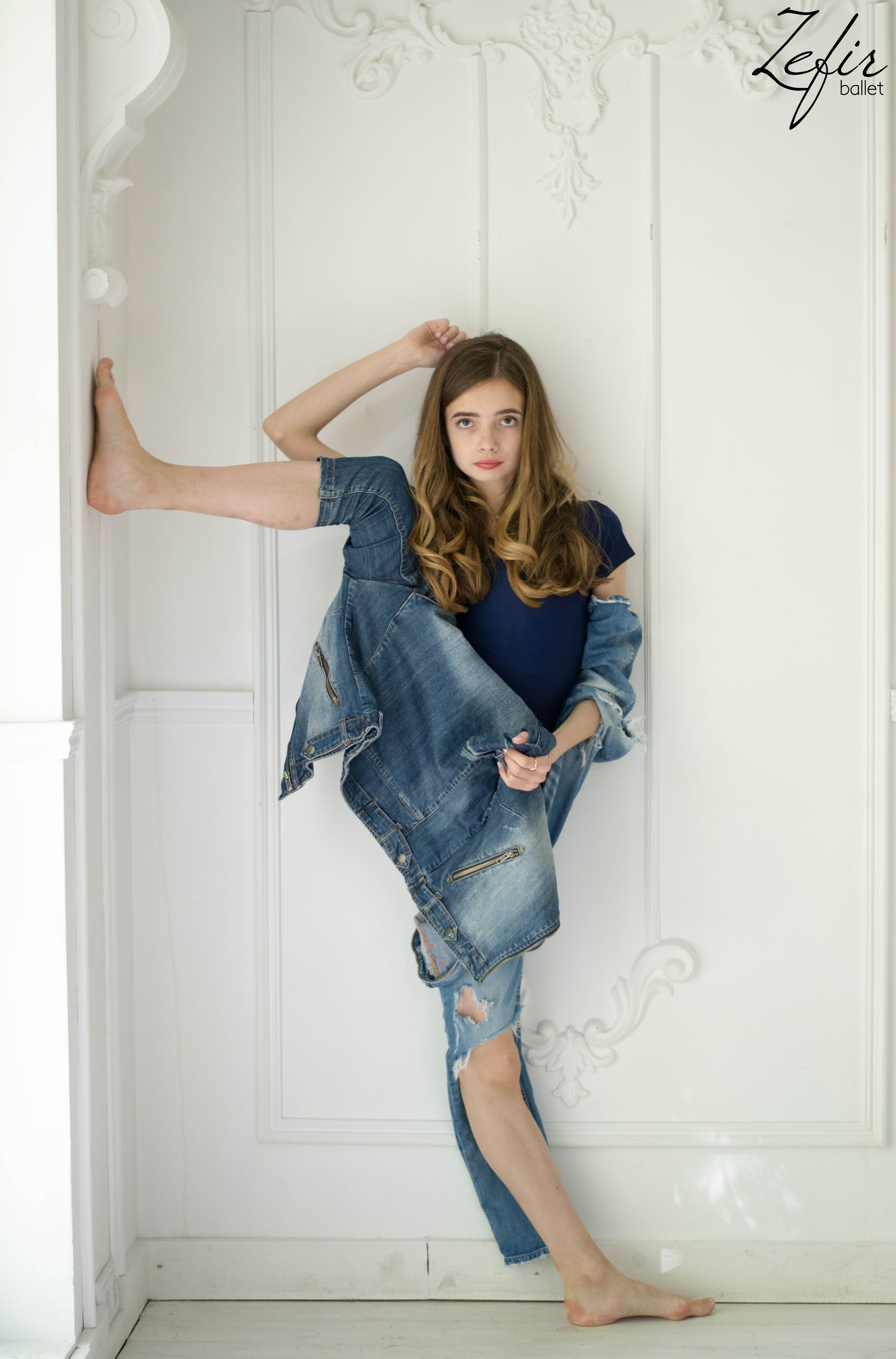 Stanislava is wearing Zefir Ballet Phaethon (Navy) leotard
International Yury Grigorovich Competition «Young Ballet of the World»
In June 2016 my school — the Bolshoi Ballet Academy — sent me to the International Yury Grigorovich Competition «Young Ballet of the World» in Sochi, where I had to present our school. I danced a folk dance, a modern dance, variation from Balanchine's pas-de-deux, Lilac fairy and Raymonda's variation.
It was my first competition which proved to be a bit easier than expected. Though the hardest part is rehearsal — there is only one stage rehearsal. That is why you have to be 100% ready for the competition. Lack of sloping on the stage in Sochi is also a sort of trouble because I got used to dance on the slope stage in my school.
There were some people who created competitive atmosphere but they failed after the second round. Five girls and five boys from the US, Japan, Ukraine and Russia managed to get to the final. We helped each other and the whole atmosphere was surprisingly friendly. The third round was also challenging: it started the morning after the second round but before it I had a rehearsal at 11 pm. I was the last one to dance; some people had a rehearsal at 9 am, others on the evening, we were given time at random.
What I love the most in ballet is that it a way to forget everything. If the weather or my day is bad, when I come to my ballet class and start dancing, I just forget it. On the one hand, dancing on the stage frightens me, but on the other hand it is the moment you feel emancipated. You move, swirl, jump and there is nothing inside your head. Just passion and satisfaction.
The more you think, the worse outcome is. You start thinking and lose coordination. There are also other factors that disturb you: border lights or when you slip on the stage. Unpredictable and sudden fails are dancers' enemies because thinking about them makes you lose contact with audience. You cannot keep track of the dancing anymore. You have to dance to the audience, not to yourself.
I had such situations when you should under no circumstances follow your emotions – this is unprofessional. You might fail something on the stage and people are watching you, lights blind you, the costume is pretty tight and you are hot. The only way is to keep on dancing despite the panic feeling overwhelming you.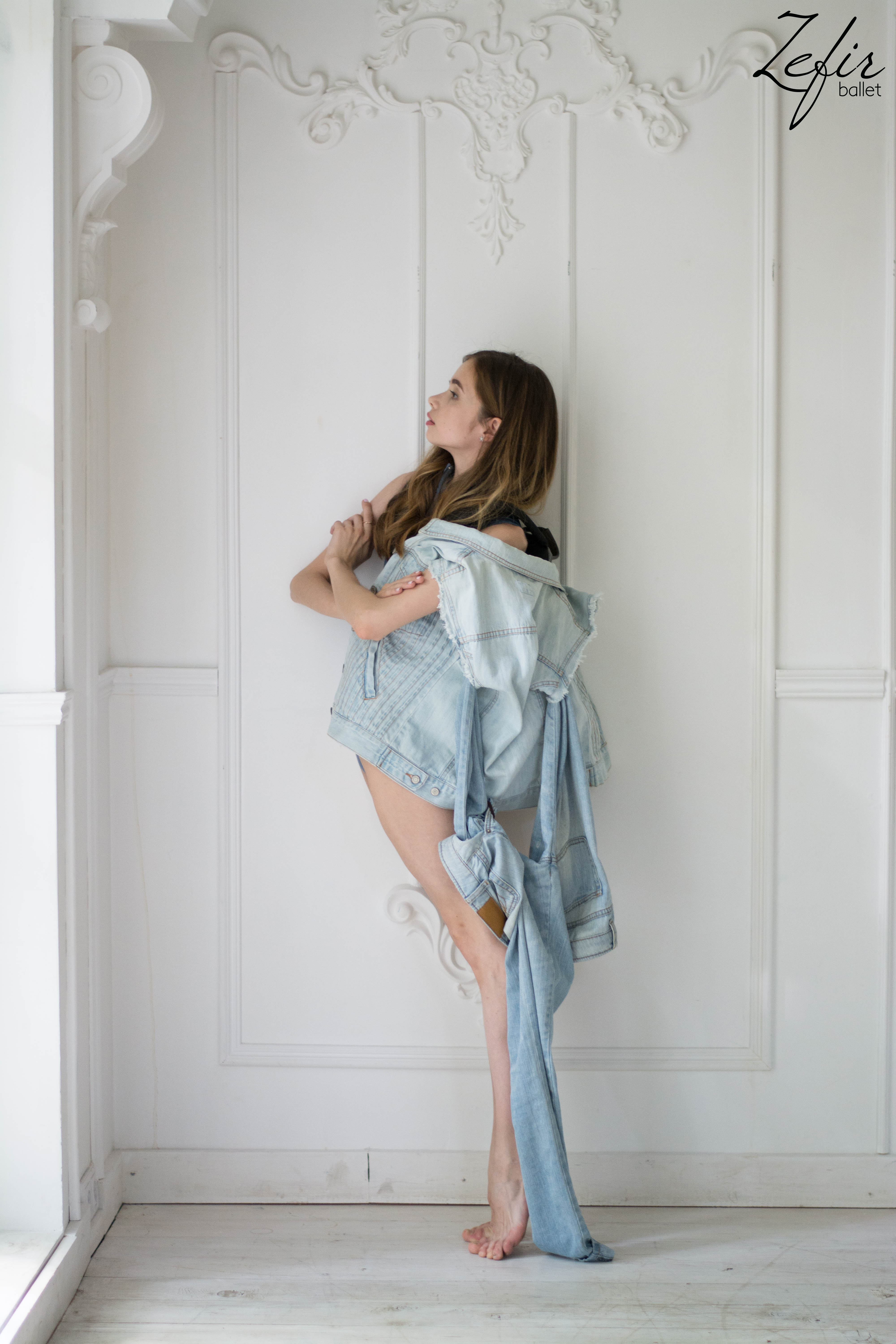 Stanislava is wearing Zefir Ballet Cousteau (grey) leotard
What I do not like in ballet
What I do not like in ballet is that nails on my feet fall off from time to time. Working span shrinks from three hours to one hour and the pain becomes intolerable especially when you wear pointe shoes. The other thing I don't love is mass rehearsals. The most disastrous thing is a mass rehearsal when my nails fall off (laughs).
What is next
I would like to dance in a theater where I will be able to grow and improve. I will try to enter different theaters, both in Russia and abroad.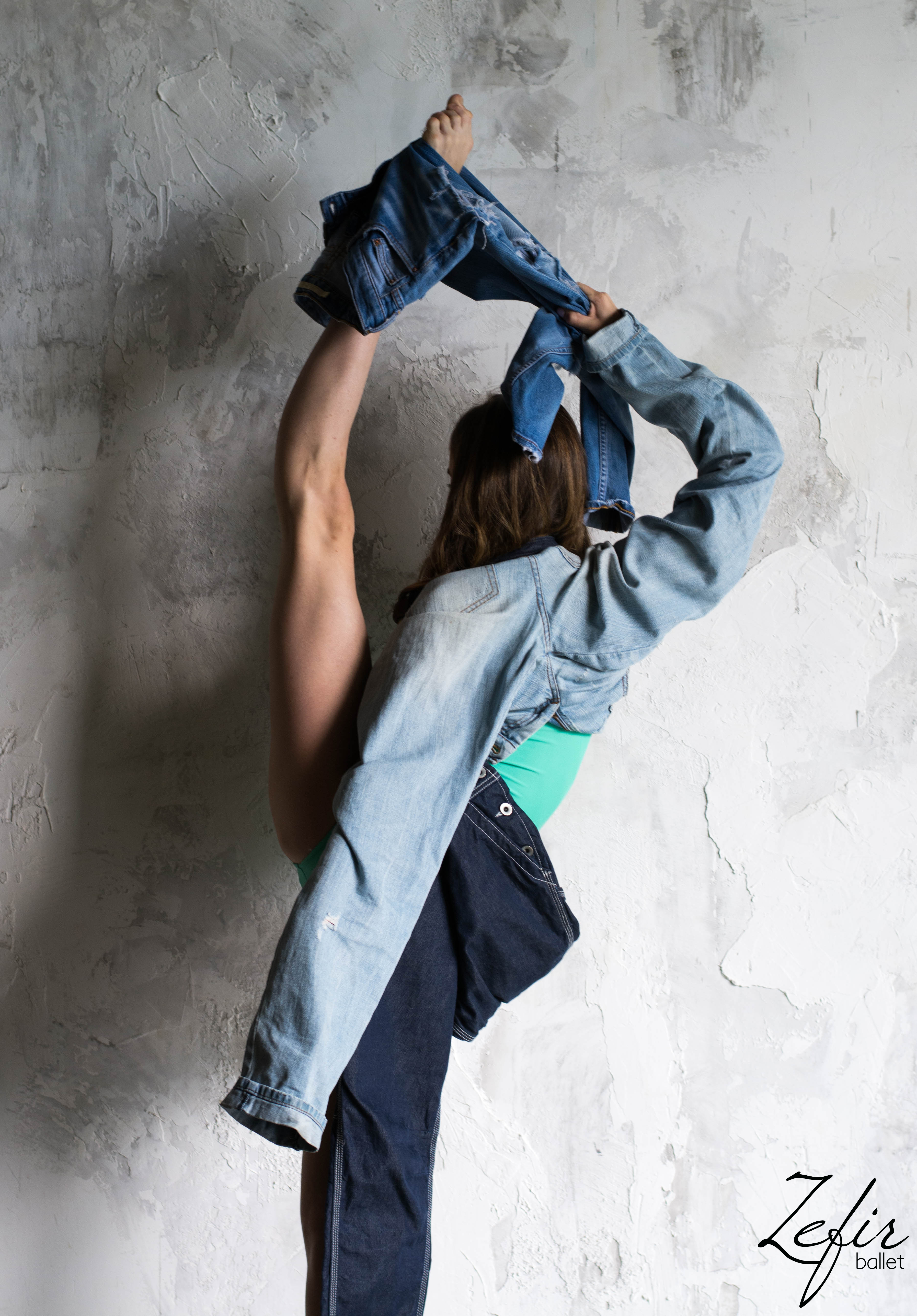 Stanislava is wearing Zefir Ballet Phaethon (turquoise) leotard
Model - Stanislava Postnova, MUAH - Anita Pudikova, Style by Lilia Kosyreva, Clothes by Zefir Ballet (jeans wear - stilists property), Photographer - Katerina Ternovskaya, Photoshoot assistant - Daria Lobkovskaya